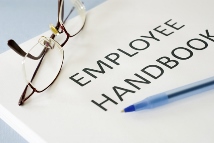 The importance of a company employee handbook
As a business owner, you want to avoid distractions that keep you from growing your business. More importantly, you want to avoid legal black holes that can and will sap your company of money and resources including your employees' valuable time. As we all know, a solid, happy workforce is key to any company's success. That means you and each of your employees should treat each other the way you would want to be treated. Nothing less should be acceptable. Creating a document—more specifically an employee handbook—upon which to build and foster relationships amongst employees, managers and owners can be one of your most important first steps to creating a thriving business.

Don't fall in the trap of thinking that laws do not apply your company just because it is a small business. Although this may be true at the federal level, most businesses get in trouble with state laws that do not have minimum employee thresholds.

The employee handbook provides everyone a clear understanding of what it means to treat others the way you would want to be treated. It sets the stage for a culture that is fair, supportive, compassionate and free of any harassment and discrimination. Make it clear that the priority for the handbook is not solely to protect the owner, but to create a consistent high performing culture where everyone can be their best. The employee handbook benefits everyone. It's like a prenuptial for the company and its employees. No one really likes it but it can put everyone at ease knowing that everyone is on a level playing field and at the end of the day everyone will be treated fairly.

Make the handbook your own. If you use a template or sample handbook as a starting point seriously consider all of the parts and how they relate to your business. Add a personal touch by including a letter from the owner to his team that sets the tone of the employee handbook.

Remember, you want to build a strong consistent relationship with all of your employees that is based in trust and support. Having a good foundation from which to work is key. Here are some simple rules to follow when starting out:
Start with a draft or template. Sample employee handbooks are everywhere on the internet. If you start out with one of these sample handbooks, be sure to customize it to fit your business.
Write the handbook in very plain and simple language. Leave out the legal jargon and keep it short and to the point. You should consider multiple languages if your workforce is diverse.
Identify acceptable workplace behavior.
Your employee handbook should contain and define the following:
Establish proper hiring and termination procedures that all owners and managers abide by. Make sure that proper procedures are in place that outline the steps that will be taken when someone is found to be in violation of the handbook or is not performing to the required standard. This should include a multi-step process where non-compliance through the steps ends in termination of employment.
Establish employment-at-will. Every employee should know that he can terminate or be terminated with or without cause in most states. Be certain that you understand your state's position on employment act will as states vary in their interpretation of this law.
Work schedules. There are laws now that govern how individuals get paid. Understand the laws that govern your business.
Anti-harassment policy. Make sure your employees know that the harassment of any individual in any capacity while in the employment of the company will not be tolerated.
Discrimination policy. Your employees should also know that discrimination at any level toward any individual is unacceptable and that if they feel they have been discriminated against they should notify their manager or HR representative.
Company-owned computers and technologies usage. Insist that computers and any technologies are used for the sole purpose of performing one's duties.
Media relations policy. There should be a single point of contact to make sure that all outgoing communication to the public is consistent.
Leave policies, such as FMLA, jury duty, military, etc. The more common issues with respect to time to vote, funeral, court appearances.
Vacation and personal time-off. Be very consistent in how time off is granted as it's an extension of compensation.
Benefits. Outline the company's benefit plan and the perks of working for such a great company. Even if you do not have healthcare coverage, there are certainly benefits and perks of working at your company beyond just a paycheck.
Open door policy. Take this seriously. Employees don't want to feel that this is just lip service or the latest trend in employee morale.
Acknowledgement. Lastly, make sure every employee reads the handbook upon starting their employment with your company. Have them sign an acknowledgement statement indicating that they read and understand the document. On a regular basis you should also encourage employees to read the handbook. Perhaps even brief annual meetings to discuss its contents makes sense in certain situations.
Distributing an employee handbook is not just an exercise and shouldn't be something that you think you have to do. Equally, your employees should not just sign it and stick it on their shelf never to be seen again until they have a complaint to make. Use to it to move your business forward. Let you team know that you are serious about the success of the business and its people.
---
Any discussion relating to policy language and/or coverage requirements is non-exhaustive and provided for informational purposes only. For details on coverage provided by your specific policy, please refer to your policy.v